2021 Community Sew - for United Way - Safe Sleep Program
This year's community sew project is to sew simple bags that allow unhoused recipients
to carry a few belongings. We plan to sew for the Safe Sleep Shelter, a homeless
shelter for women https://www.unitedwaymwv.org/safesleep-united.html; as well as for other homeless shelters in our area.

UPDATE
With the increased COVID variant cases, the scheduled sew days at the Purple Frog have been cancelled.
Please continue to sew bags and there will be several ways to have them collected or a drop off location.
You can use the Contact Us form if you don't have a Neighborhood Group that you're connected to for bag donation collections, drop-off, and kits.


More detailed information
Link for suggested pattern


---
2020 Community Sew - for Family Building Blocks
Family Building Blocks is an outreach group that helps train parents with skills to break the cycle of child abuse.


Community Sew Dates:
2020 - TBD
---

Lots of bibs and burp cloths from August 3, 2019!
And MORE to come!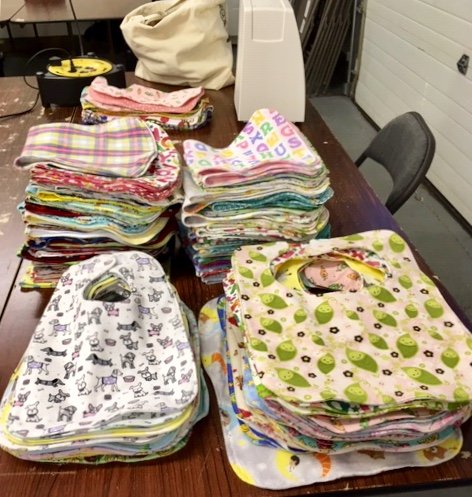 ---



Community Sew 2018 - Hats for the Homeless



Sally Braswell and Beth Schwab
2018 Community Sew
June 18 was the Eugene/Springfield, Hats for the Homeless, Prep Day and they cut out 130 hats! Nice work.