2021 Community Sew - for United Way - Safe Sleep Program
This year's community sew project was to sew simple bags that allow unhoused recipients
to carry a few belongings.
Safe Sleep Shelter, a homeless shelter for women https://www.unitedwaymwv.org/safesleep-united.html;
as well as for other homeless shelters in our area.

All the efforts, talent, and generosity more than exceeded expectations.
A huge thank you to all who helped in every way.

---
2020 Community Sew - for Family Building Blocks
Family Building Blocks is an outreach group that helps train parents with skills to break the cycle of child abuse.


Community Sew Dates:
2020 - TBD
---

Lots of bibs and burp cloths from August 3, 2019!
And MORE to come!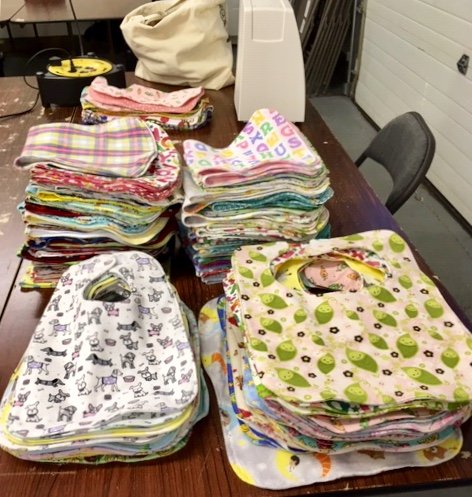 ---



Community Sew 2018 - Hats for the Homeless



Sally Braswell and Beth Schwab
2018 Community Sew
June 18 was the Eugene/Springfield, Hats for the Homeless, Prep Day and they cut out 130 hats! Nice work.