2022 Community Sew - Bibs, Burp Cloths, and Blankets!


This year our Chapter is joining the nationwide effort of the American Sewing Guild to make baby items – bibs, burp cloths, blankets, etc.
Recipients will include Family Building Blocks and St. Germaine's and other community groups throughout our large chapter area.
Here is the link for Patterns and instructions.

We will hold a Community Sew Day on
September 17, 2022
10:00 a.m. - 4:00 p.m.
Calvary Baptist Church
1230 Liberty St. SE
Salem, OR 97302
Map
Please try to keep track pf the time you spend and the number of items donated as we are trying to track this information for the chapter as a whole.
A form to help you is here [link].
If you have questions please submit them through the Contact Us page.



---

2021 Community Sew - for United Way - Safe Sleep Program
This year's community sew project was to sew simple bags that allow unhoused recipients
to carry a few belongings.
Safe Sleep Shelter, a homeless shelter for women https://www.unitedwaymwv.org/safesleep-united.html;
as well as for other homeless shelters in our area.

All the efforts, talent, and generosity more than exceeded expectations.
A huge thank you to all who helped in every way.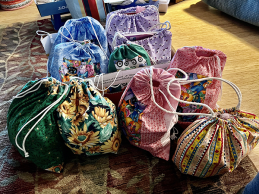 ---
2020 Community Sew - for Family Building Blocks
Family Building Blocks is an outreach group that helps train parents with skills to break the cycle of child abuse.
---

Lots of bibs and burp cloths from August 3, 2019!
And MORE to come!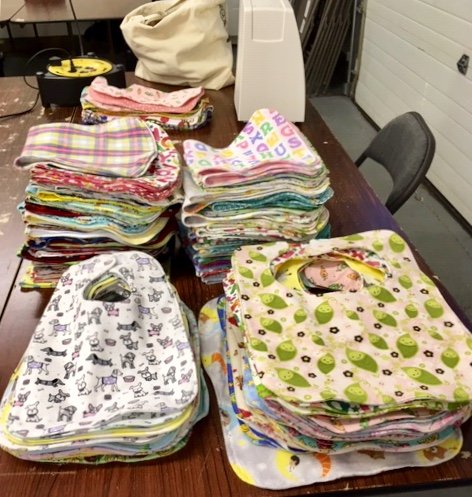 ---



Community Sew 2018 - Hats for the Homeless



Sally Braswell and Beth Schwab
2018 Community Sew
June 18 was the Eugene/Springfield, Hats for the Homeless, Prep Day and they cut out 130 hats! Nice work.