Willamette Valley ASG Community Sew 2023
This year, the CAB decided to give members a wide range of choices as to what to make so that each member can select the items they most enjoy making (and which might allow them to use fabric on hand). In addition, the CAB recognized that there is ongoing need in the community for some of our prior projects. Therefore, community sew this year will focus on the following projects:
Members in the Bend/Redmond area will make period products for the Kwek Society, which distributes them to Native American schools – there is one in their area. Other projects will include Early Childhood Education and items for transitional housing.
Members are encouraged again to make baby items. In the Salem/Keizer area, these will be distributed to Family Building Blocks. Family Building Blocks appreciated everything we made last year and says the most needed items are burp cloths, swaddle blankets (with Velcro), and knit baby hats. Members in Albany will be making baby items for the Baby Boutique. Members in Eugene will be making nursing covers for Dove Medical, blankets for kids in local schools, and baby items for the Relief Nursery in Cottage Grove.
There is also an ongoing need for the homeless. The Safe Sleep women's shelter in Salem is expanding and adding new beds. They welcome pillow cases for their new beds. They and other homeless shelters also appreciate bags (with or without items such as snacks, sanitary items, gloves etc), hats, and scarves.
If we have missed a project in your local area, please let Carrie or Claudia know.
Please try to keep track of hours spent, number of items donated, and other things donated like fabric so we can report to National.
Community Sew Day Instructions
Project and Pattern Links
Project Report Form
---
2022 Community Sew - Bibs, Burp Cloths, and Blankets!
The Community Sew for 2022, our Chapter joined the nationwide effort of the American Sewing Guild to make baby items – bibs, burp cloths, blankets, etc.
Recipients included Family Building Blocks and St. Germaine's and other community groups throughout our large chapter area.
---

2021 Community Sew - for United Way - Safe Sleep Program
This year's community sew project was to sew simple bags that allow unhoused recipients
to carry a few belongings.
Safe Sleep Shelter, a homeless shelter for women https://www.unitedwaymwv.org/safesleep-united.html;
as well as for other homeless shelters in our area.

All the efforts, talent, and generosity more than exceeded expectations.
A huge thank you to all who helped in every way.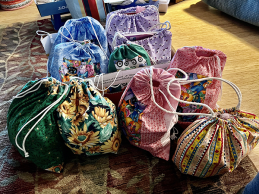 ---
2020 Community Sew - for Family Building Blocks
Family Building Blocks is an outreach group that helps train parents with skills to break the cycle of child abuse.
---

Lots of bibs and burp cloths from August 3, 2019!
And MORE to come!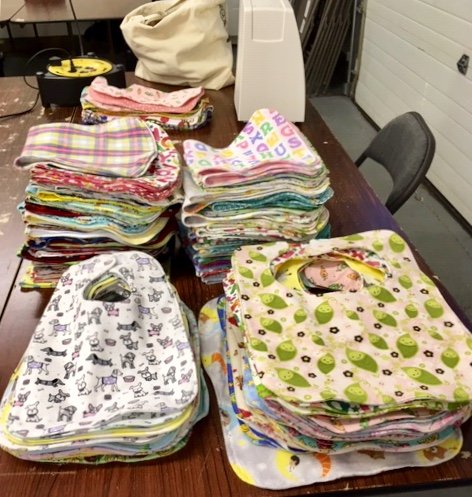 ---



Community Sew 2018 - Hats for the Homeless



Sally Braswell and Beth Schwab
2018 Community Sew
June 18 was the Eugene/Springfield, Hats for the Homeless, Prep Day and they cut out 130 hats! Nice work.